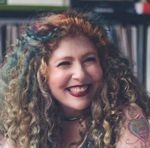 Dr. Lori Beth Bisbey
Expertise
Health and Wellness, Sex and Relationships, PTSD
Education
MA and Ph.D. in Clinical Psychology from California School of Professional Psychology, BSc. Special Education/Psychology from Boston University, Dip. Forensic Medicine from The Society of Apothecaries, Cert. Whole Person Coaching from Baraka Institute
Experience
In addition to her work as a clinical psychologist, couples' psychotherapist, and sex and intimacy coach, Dr. Lori Beth Bisbey is an entrepreneur and business owner. Her repertoire includes creating and running two blogs and a popular sex podcast. She writes for numerous sites and has also published six books.
About Cannabotech's Editorial Process
At Cannabotech, our expert writers and editors are committed to providing practical and relevant information about the health and lifestyle benefits of cannabis and medicinal mushrooms. Our content is fact-checked to ensure relevance and accuracy. We only source content from sites and institutions that reflect the latest science-based evidence from the alternative medicine industry. Our content is rigorously reviewed before publication and upon considerable updates.
Latest from Dr. Lori Beth Bisbey