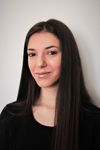 Nevena Radulović
Expertise
Editing, Fact-checking, Proofreading, Content Writing
Education
Master's degree in English Language and Literature from the University of Kragujevac, Bachelor's degree in English Language and Literature from the University of Kragujevac
Experience
Nevena's long-standing love of languages emerged at an early age and shines through in her work as an editor, keen eye for detail, and finesse in polishing texts. In her free time, she also enjoys reading, keeping up with contemporary culture, and translating multiple languages.
About Cannabotech's Editorial Process
At Cannabotech, our expert writers and editors are committed to providing practical and relevant information about the health and lifestyle benefits of cannabis and medicinal mushrooms. Our content is fact-checked to ensure relevance and accuracy. We only source content from sites and institutions that reflect the latest science-based evidence from the alternative medicine industry. Our content is rigorously reviewed before publication and upon considerable updates.
Latest from Nevena Radulović