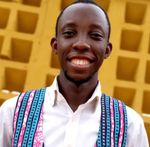 Babafemi Adebajo
Expertise
Health, Physical Therapy, Podiatry, Research
Education
Bachelor of Physiotherapy from the University of Ibadan, Post Graduate Diploma in Theology from Redeemed Christian Bible College
Experience
Babafemi Adebajo is currently pursuing a Master's degree in physiotherapy. He has over ten years of experience writing across different niches, including health, finance, insurance, and technology. His experience also spans academic writing, content writing, copywriting, and creative writing.
Quote From Babafemi Adebajo
I learned in 2020 that "He that must lead the pack must do more than the rest of the pack." This is what drives me now.
About Cannabotech's Editorial Process
At Cannabotech, our expert writers and editors are committed to providing practical and relevant information about the health and lifestyle benefits of cannabis and medicinal mushrooms. Our content is fact-checked to ensure relevance and accuracy. We only source content from sites and institutions that reflect the latest science-based evidence from the alternative medicine industry. Our content is rigorously reviewed before publication and upon considerable updates.
Latest from Babafemi Adebajo